Memorial Day is the start of BBQ season at my house (if it stops raining...well, actually, I've been known to BBQ in the rain AND the snow. I'm kind of weird, lol) But I always like to try new recipes for special days and Memorial Day is a very special day.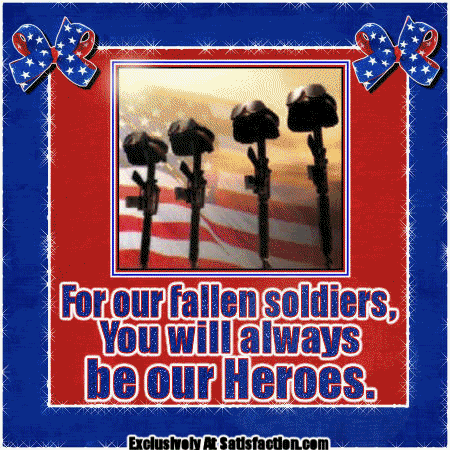 Memorial Day Comments
-
Photobucket
On that day, we're remembering those brave warriors who've given so much for our freedom, for our liberty, for our lives here in the United States. My darling husband is a veteran as was my brother. While they both came home whole (Thank you, Lord), they both suffered emotional scars for a long while afterwards.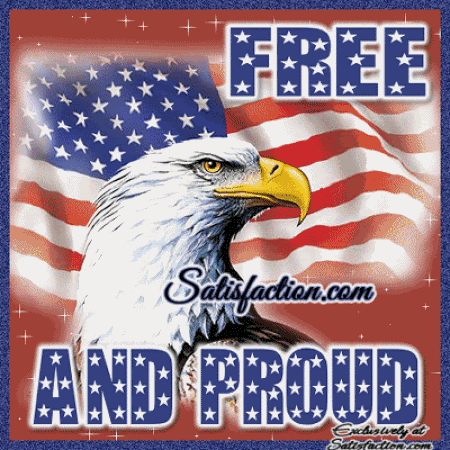 Memorial Day Comments
-
Photobucket
So I encourage every one of us to take a minute on Monday and bow your head in remembrance of our fallen heroes. If you know a veteran, take a moment to say Thank You for Your Service. Then invite them to your BBQ.
I know they'll appreciate the gesture.
Bacon-Blue Cheese Stuffed Burgers (from a Taste of Home)
Ingredients
1-1/2 pounds

lean ground beef (90% lean)

1 package

(3 ounces) cream cheese, softened

1/3 cup

crumbled blue cheese

1/3 cup

bacon bits

1/2 teaspoon

salt

1/2 teaspoon

garlic powder

1/4 teaspoon

pepper

1 pound

sliced fresh mushrooms

1 tablespoon

olive oil

1 tablespoon

water

1 tablespoon

Dijon mustard

4 whole wheat hamburger buns, split

1/4 cup

mayonnaise

4 romaine leaves

1 medium tomato, sliced
Directions
Shape beef into eight thin patties. Combine the cream cheese, blue cheese and bacon bits; spoon onto the center of four patties. Top with remaining patties and press edges firmly to seal. Combine the salt, garlic powder and pepper; sprinkle over patties.

Grill burgers, covered, over medium heat or broil 4 in. from the heat for 5-7 minutes on each side or until a meat thermometer reads 160° and juices run clear.
Meanwhile, in a large skillet, saute mushrooms in oil until tender. Stir in water and mustard.
Serve burgers on buns with mayonnaise, romaine, tomato and mushroom mixture. Yield: 4 servings.
Betty Crocker S'mores Brownies
1 box (1 lb 2.4 oz) Betty Crocker® Original Supreme
Premium brownie mix
Water, vegetable oil and egg called for on brownie mix box
2 cups miniature marshmallows
4 graham crackers, broken into small pieces
2 Hershey's® milk chocolate candy bars, broken into
1-inch squares
1. Heat oven to 350°F (325°F for dark or nonstick pan). Make brownies as directed. After removing pan from oven, set oven to broil.
2. Immediately sprinkle marshmallows and graham crackers over warm brownies. Broil about 4 to 5 inches from heat 30 to 60 seconds or until marshmallows are golden brown. (Watch carefully marshmallows and graham crackers will brown quickly.) Sprinkle with chocolate candy. To serve warm, cool about 30 minutes. For brownies, cut into 4 rows by 4 rows.
Use a plastic knife to cut brownies .
Wrap up brownies individually in waxed paper or foil for picnics or tailgating.
1 Serving (1 Brownie) Calories 220 (Calories from Fat 60), Total Fat 7g (Saturated Fat 2g, Trans Fat 0g), Cholesterol 15mg; Sodium 130mg; Total Carbohydrate 37g (Dietary Fiber 1g, Sugars 26g), Protein 2g; Percent Daily Value*: Vitamin A 0.00%; Vitamin C 0.00%; Calcium 0.00%; Iron 8.00%; Exchanges: 1/2 Starch; 0 Fruit; 2 Other Carbohydrate; 0 Skim Milk; 0 Low-Fat Milk; 0 Milk; 0 Vegetable; 0 Very Lean Meat; 0 Lean Meat; 0 High-Fat Meat; 1 1/2 Fat; Carbohydrate Choices: 2 1/2; *Percent Daily Values are based on a 2,000 calorie diet.